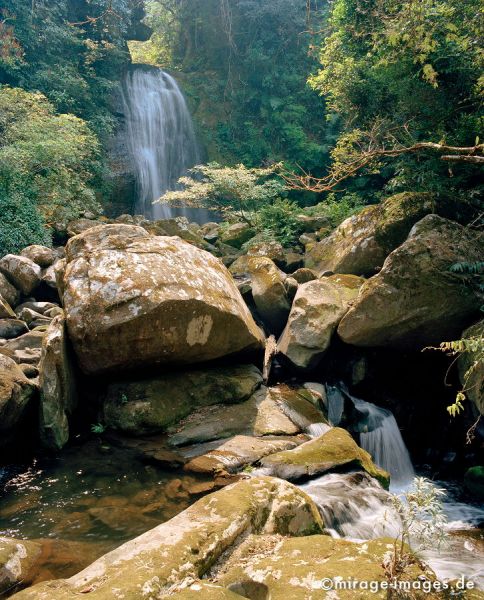 (
source
)
Nam Kat refers to a waterfall in Oudomxai province, Lao. Again I managed to forget my camera when hiking here and was hoping that colleagues might fill the void ....
The start to the hike of the falls is roughly 20 km north of Oudomxai town where you take a right turn and continue over a dirt track until the first river crossing. Park here and then it's a one and a half hours walk up along the river into an increasingly narrow valley. In the beginning the track is well defined slowly the track decreases in width, though there route is pretty obvious.
The falls themselves are about 15m high into a large pool with quite a heavy flow of water. I believe I visited in December 2004 on a slightly cloudy day and the water was freezing, so no swim.

However Footprint Laos
reports
that visitors:
'... only saw a trickle of water from the falls'.
Never, ever comment on waterfalls in Southeast Asia pre-monsoon.
From the Oudomxai Provincial Tourism Department there is a
good description
of the waterfall:
'... if you are adventurous, take the time for a bath in the refreshing water of the Nam Kat'.
Can't see what the adventure of bathing in the water was, there were no crocs or anaconda's or things like that ...
Then
there's
the Lao National Tourism Administration :
'Why should I go to the Nam Kat Waterfall?


[Answer:] Discover the Heart of Northern Lao Why rush on, pass a wonderful day in the nature near Oudomxay'.
I know that in the past there was a threat of this area becoming 'developed' which would have included the likes of a resort possibly a casino, it's good to see it is still in it's natural state.
Elsewhere in the province there is the Lak Sip-et waterfall, or rephrased the 11km waterfall, which unsurprisingly is 11km up the road to Luang Prabang. Packed on holidays, these better accessible waterfalls are also less pristine and less impressive.